5 attractive tourist places in Preah Vihea province, Cambodia 2014
Straddling the borders of Laos and Thailand in Cambodia's far north, Preah Vihea is Cambodia's most remote province. A mere 170,000 scratch a living from agro-forestry pursuits in, what is for most Cambodians, a forbidding wilderness. Mighty kingdoms that once ruled the eara have left temples and citadels to rival those of Angkor, the most famous of which is Preah Vihea on the Thai border.
So I would like to show you all the 5 attractive places in this province where you could visit when you would plan to visit Preah Vihea. Here they are:
5- Kropum Chhook Temple
Krapum Chhouk Temple is located in Romdos commune, Rovieng district, about 45 kilometers south of the provincial town. The laterite and sanstone temple was built in the late 10th century to worship Brahmanism.
4- Ba Kan Temple
The Bakan temples are located in Ta Siang village, Ronakse commune, Sangkum Thmei district, about 105 kilometers southwest of the provincial town. on a plain that was a former worship place of the king. The temple is surrounded by two ramparts-inside and outside rampart. Inside each rampart, there are many other temples such as Neang Peou and Dangkao Baodos temples.The temple was likely a royal palace and worship place. According to historians, the site used to be a hiding place of King Jayavarman VII before he ascended to the throne in AD 1181 because the style of some construction is similar to the style of Bayon and Ta Prohm temples.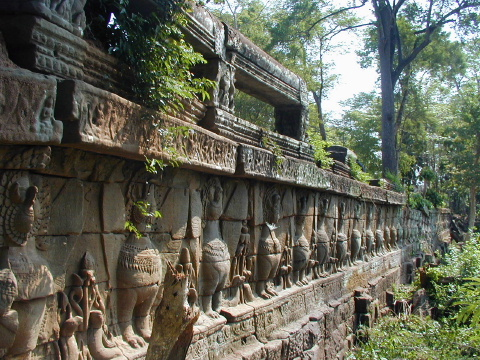 3- Bak Kam Pagoda
Wat Bak Kam is located along Tbeng mountain foot in Bak Kam village, Chhien Muk commune, Tbeng Meanchey district, about 17 kilometers west of the provincial town. The pagoda is 1, 000 meters long and 400 meters wide. The site offers nice view, forest and fresh air year round. Local villagers usually visit this site during holidays or national festivals.
2- Kok Ke Temple
oh Ker was once an ancient capital of Cambodia, located in Srayong Cheung village, Srayong commune, Kulen district, about 49 kilometers west of the provincial town. The Koh Ker complex is on the Chhork Koki highland. It was built by King Jayavaraman IV (AD 928-942). Koh Ker temple is 35 meters high, and its design resembles a seven-stepped stupa. The temple faces west toward Angkor city. It was built to worship Treypuvanesvara, the god of happiness.
1- Preah Vihea Temple
In the 6th century , king Yasovarmamn I ( 889-900) began work on the original dedicated to Shisa as result of spiritual development, increased political prestige and economic growth was naturally reflected in the Temple undergoing more than 300 years of consultation with deal of remodeling under subsequent King Suryavarman II ( 1113 -1150) this increased prestige naturally changed the original small sanctuary into one of the greatest Khmer temples of all times. This ranking was the result of the finest in situ carving that depicted the highest standards of unique Khmer architecture.