7 most attraction tourist places in Kampong Cham province, Cambodia
Set on the banks of the Mekong River and within easy reach of both Phnom Penh and Vietnam, Kampong Cham is an important trade and transportation hub. The town itself is quaint and charming with a bustling riverside promenade and peeling colonial buildings, though modern concrete eyesores are beginning to encroach. Over tow million people live in Kampong Cham province, most working as rubber tappers of as farmers. Kampong Cham's flat land and red soil is ideal for rubber plantations and fruit orchards.
Attraction place are below
7- Koh Pen Coast
2km (2mn) From Provincial Town. Operations of Recreation Park and Beaches, Location: Kampong Cham & Kampong Siem District.
6- Chroy Chek Promontory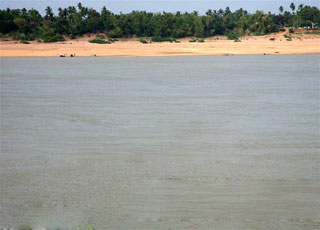 Chhrouy Chek is a name of the place that was built for stocking water to irrigate the rice fields. Its beautiful flora and water sources have made it a popular location for Kampong Cham dwellers to visit, especiallly on weekends and holidays. Young people in particular enjoy swimming there. The site is about 15 kilometers from the provincial town, north of Kampong Seim District.
5- King's Residence
King's Residence, Kampong Cham is considered as one of the most important tourist attractions in Kampong Cham. The ancient palace of King's Residence, Kampong Cham is visited by travelers from all over the world. The King's Residence in Kampong Cham is known as the dwelling abode of the monarchs who ruled Cambodia for a long time. Kampong Cham has been under monarchical rule for a long time and the complex of the King's Residence has been deserted for a sometime. The complex comprises an outside building which was used by the local people so that they can come and meet the king.
4- Phnom Han Chey temple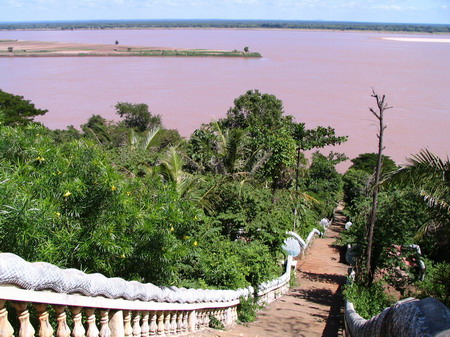 Han Chey Mountain has official name Chey Kiri Mountain located at the East of Kampong Cham province, at the northern part of Mekong River. This resort located at Han Chey village, Han Chey commune, Kampong Siem District in the distance of 18 kilometres by water and 20 kilometres by land. The mountain can be climbed up by 295 beautiful stair steps, and has pagoda and the temple of Kuk made of ancient solid bricks each has seven-square meter size.
3- Nokor Chey Temple
Nokor Bachey temple is a cultural and historical site. It is located 2.2 kilometers from Kampong Cham provincial town along National Road 7, about 122 kilometers northeast of Phnom Penh. Visitors traveling from Phnom Penh will see the gate to the pagoda on the right. The temple was built in the middle of the 11th century, during the reign of Suryavarman II and King Ouphey dedecating to Brahmanism. The temple is about 200 meters inside the gate. The site is accessibleto almost all types of vehicles.The famous place of Nokor Bachey Temple, Kampong Cham is a wonderful place to visit in the country of Cambodia.
2- Teuk Cha Falls
Next to Preah Theat Teuk Chhar temples is a canal dug during ancient times. Water fills the canal year round, and the water is very clear and free-flowing, making it popular with tourists who enjoy bathing in it. At one time, there were many trees and plants along both sides of the canal, but they were removed to make a big plain, where the water flows alongside the main temple.
1- Phnom Bros and Srey mountain
Located at Kro La Commune, Kampong Siem District in Seven- kilometers distance from the provincial town of Kampong Cham or 114-kilometers distance from Phnom Penh with exceeding 500 Metres to the left. The pagoda of Phnom Pros has official name called What Sovan Kiri Rotanak Phnom Pros; in 1000 Meters to the North, there is another mountain, which has pointed peak called Phnom Srey.