2 places to visit while staying another day in Kratie province, Cambodia
Kratie is another part of tourist destinations in Cambodia where there are many attractive places and things that tourist can do and go.And here below are other things I would like to introduce and encourage you to do and experience and also you can make some impacts to the rural and poor people lives.
So, as when you can stay another in Kratie, you can consider this 2 places for your extra destination. Here they are:
1-

Cambodian Rural Development team
It is a local NGO which bridges the gap between rural development and conservation. This NGO create positive solution to today's environmental problems- introducing alternative ways to earn a living, combined with new and more sustainable agricultural technologies and practices to Cambodian poor people of Kratie province who turned to the exploitation of forests and rivers for their livelihoods after decades of war.
It also helps assisting the critically endangered Mekong River freshwater Irrawaddy dolphin in Kratie and Stung Treng province.
What can you experience?
Visit its office in Kratie town to see some of it demonstration activities and learn more from its friendly staffs about what is being done to support dolphin conservative efforts. It is located at house # 695, street 2, Kratie town.
For the truly adventurous, you can take a trip up the Mekong River, stay in the home of a local community member in a remote village and participate in the project activities.
Purchase a t-shirt or other souvenirs to support its community conservation efforts, or make a donation. For example, $5 will buy enough seed to establish a sustainable family home-garden, or buy $5 ducklings for sustainable duck raising.
More information:
www.crdt.org.kh
2-

Cambodian Craft Cooperation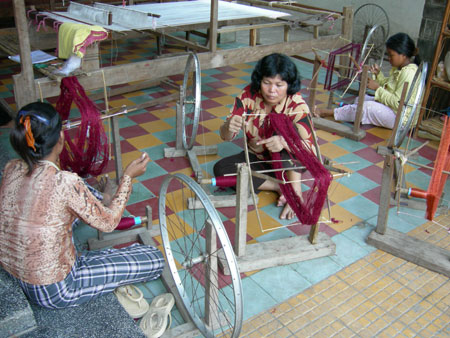 It is an association was set up in 1997 in order to help and address the issues of silk production of Cambodia.
What can you experience?
Check out the products it sells at the head office in Phnom Penh near Wat Phnom resort.
Visit places where community working on silk production. Cambodian silk reflects a variety of traditional styles with special patterns and colors for ceremonies, festivals and daily life. It has a number of unique and beautiful silk products for purchase.
Note: They also operate an online sale
More information:
www.cambodian-craft.com or www.silkfromcambodia.com